Banks Track Walk and Talk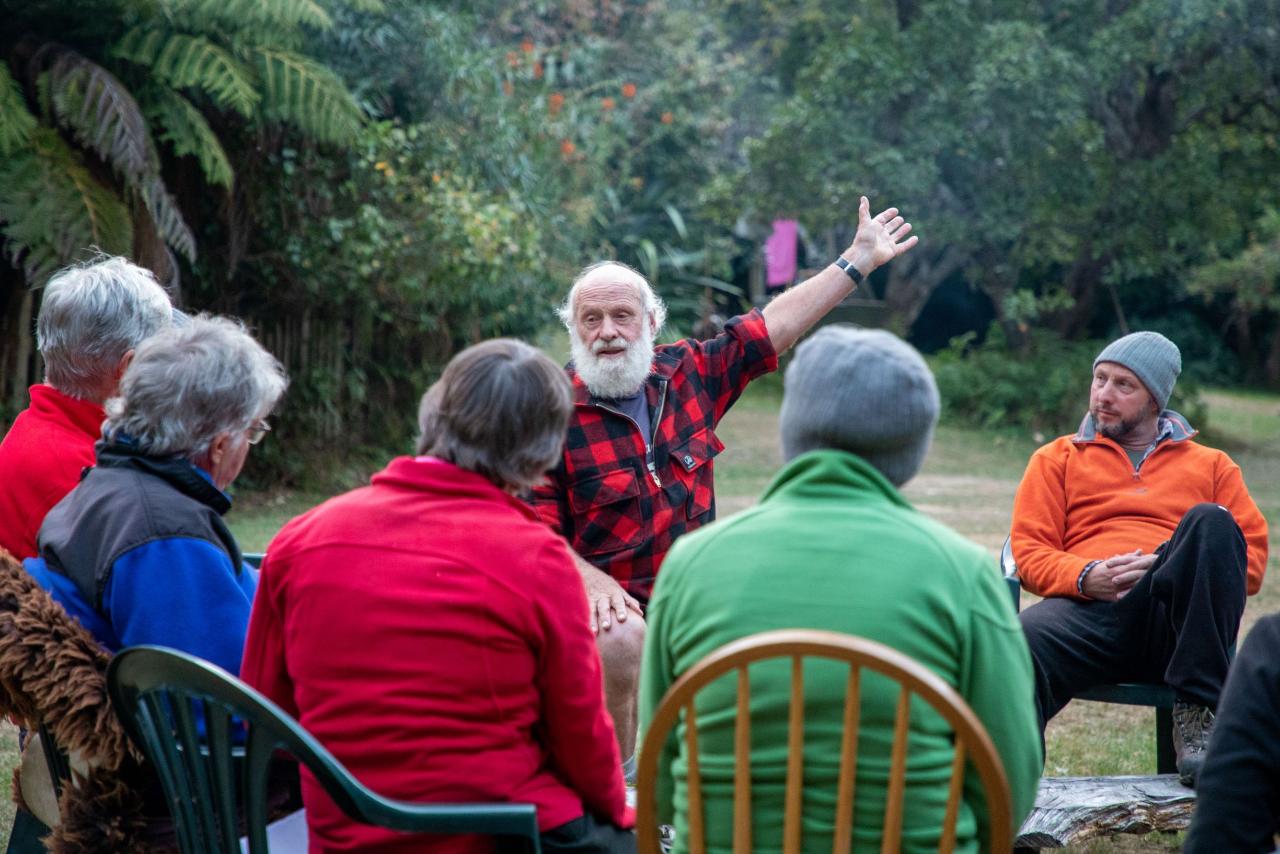 À partir de

NZD
750,00 $NZ
Durée: 3 Jours (environ)
Lieu: Akaroa, Canterbury
Code produit: Walk+Talk
This special Three Day Classic Walk add-on gives your group three nights of evening talks about Banks Track, conservation, flora, fauna, geology and ecology.
Please contact us (bankstrack@xtra.co.nz) to discuss this group option.
Choose our most popular Three Day Classic Walk and experience a talk each evening at 7.30pm with one of our knowledgeable speakers.
Topics will include behind the scenes of Banks Track, how working farms are working towards conservation, and environmental, geological and biological aspects of Banks Peninsula.
This is a group add-on to our Three Day Classic Walk which takes you on a journey through forest and farmland, over the rim of an extinct volcano and into otherwise inaccessible bays. Your packs will be carted for you as you walk at your own pace along the coast and cliffs of two marine reserves, have the opportunity to take part in a free penguin tour (in season), the opportunity to book a kayak trip in Pohatu Marine Reserve and traverse working farms working towards conservation.
Over three days and three nights you complete a 31 km journey that starts and finishes in picturesque Akaroa.
Your packs will be carted from accommodation to accommodation as you walk. You will walk across private farmland, along the coast of Banks Peninsula's south east corner, passing the Pōhatu Marine Reserve, through land reserves including Tutakakahikura and Hinewai Reserves, past penguin, gull and shearwater breeding colonies and through our back yards. The diversity of scenery, flora and fauna, accommodation and views combine to create a stunning experience, one that many people return to enjoy.
Banks Track – Three-Day Walk Itinerary
5.30 pm pick up (on your booking start date – you begin walking the next day) outside Akaroa's old Post Office, 80 Rue Lavaud.
Prior to 5.30 pm those with their own transport will need to park their vehicle at Mount Vernon Lodge and allow 30 minutes to walk back to the pick-up point.
Paul or Mafi (your bus drivers) will brief you on the key points of the next few days and answer your immediate questions. At this point you will be given a printed guide to the route (this also acts as your ticket so please keep it with you), which is full of useful information about the walk.
The bus will transport you to Onuku Trampers Hut, a 20 minutes drive.
The first night's accommodation is at the Onuku Trampers Hut where one of our speakers will meet you at 7.30 pm for the first of your three evening talks.
The following day: Onuku to Flea Bay – 5-7 hrs walking.
You will climb from Onuku Trampers Hut , through farmland to Trig GG at 699 m, over the rim of the extinct volcano and down into Flea Bay through the Tutakakahikura Reserve.
Your second night's accommodation is at the Flea Bay Cottage where drinks and chocolate bars are available for sale (cash only).
Your second evenings talk will include a Pohatu Penguin Tour with one of the Pohatu Pegiun team and the timing will be dictated by the penguin activity. Look in the Flea Bay Cottage for details on your arrival.
The following day: Flea Bay to Stony Bay -3-5 hrs walking.
From Flea Bay you walk along the coast of the Pohatu Marine Reserve, through a Little Blue Penguin breeding colony and around the headlands to Stony Bay.
This last night's accommodation is at the Stony Bay Cottages. Full trampers shop supplies are available (cash only). There is no electricity here so ensure you have charged batteries the night before.
Our speaker will meet you in the Stony Bay village at 7.30pm for the third of your evening talks.
The final day: Stony Bay to Akaroa –5-7 hrs walking.
This includes walking through some of Hinewai Reserve, back over the rim of the extinct volcano and down into Akaroa. Most walkers arrive in Akaroa in the early afternoon.
Optional extras – private room, sleeping bag hire, and luggage storage.